I worked as a web application development intern for TubeMogul (a rising video advertising platform based in Emeryville) during the summer. As I progressed on my project assignments, I quickly noticed the openness of our workflow and friendliness of the social atmosphere surrounding the office.

True to their motto of
Figure shit out, Get shit done, Make shit happen,
TubeMogul is a place with strong innovation and feature-packed releases.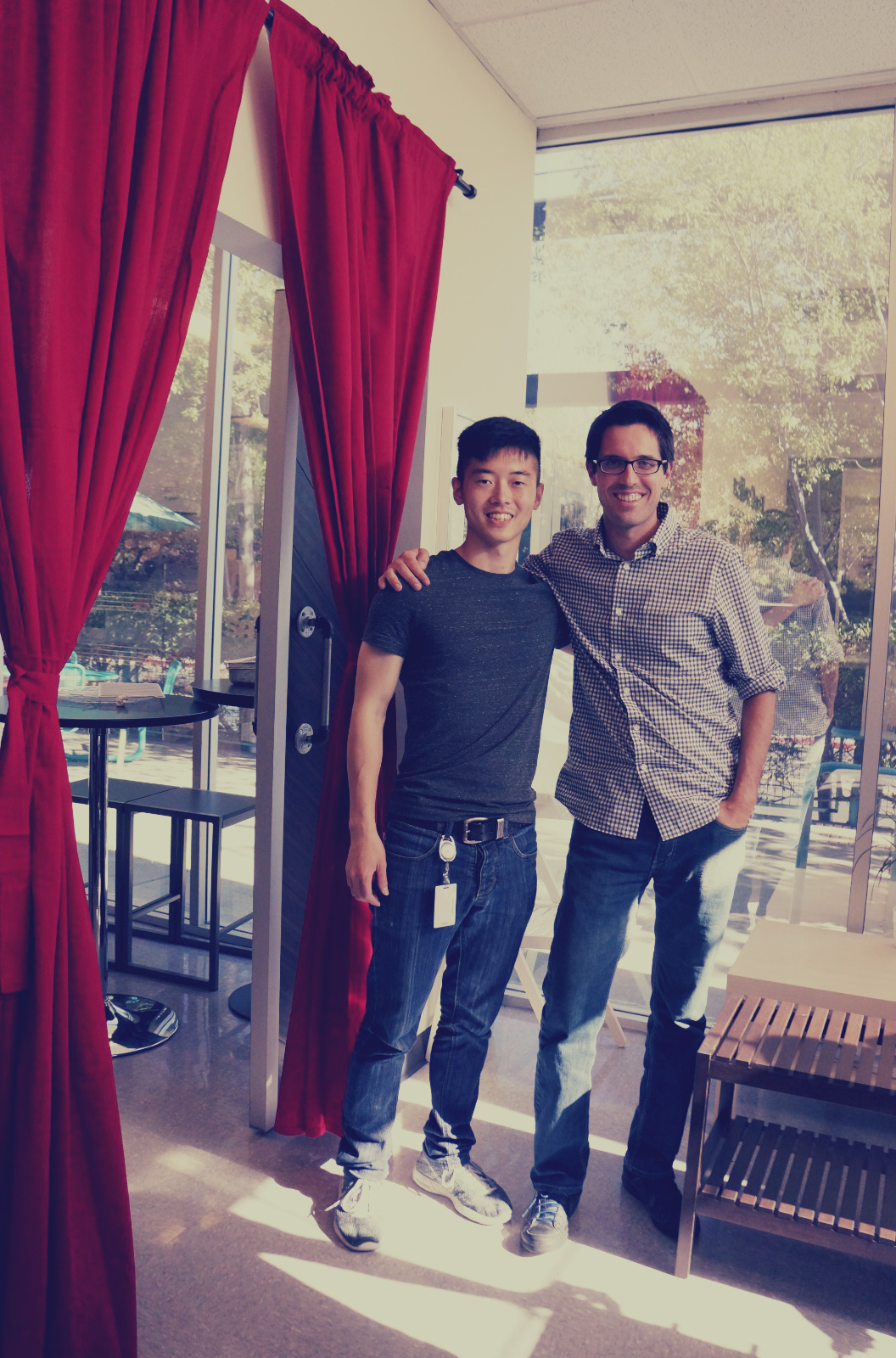 John Hughes, President of Products.
I was lucky to have brilliant co-workers that resolutely tackled tasks until they were finished to a high degree of quality. We regularly helped unblock each other from obstacles during our projects – everyone is really supportive here.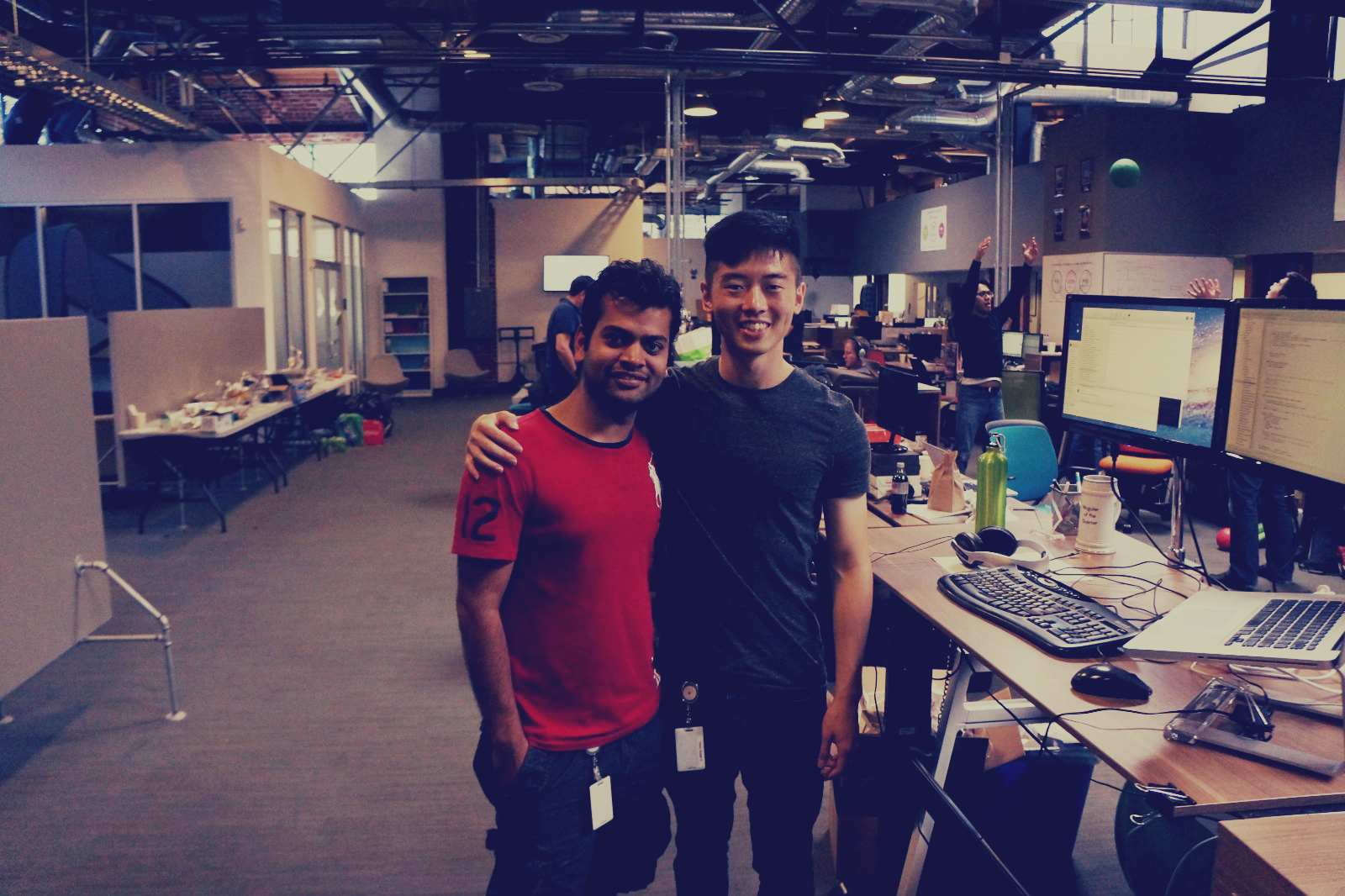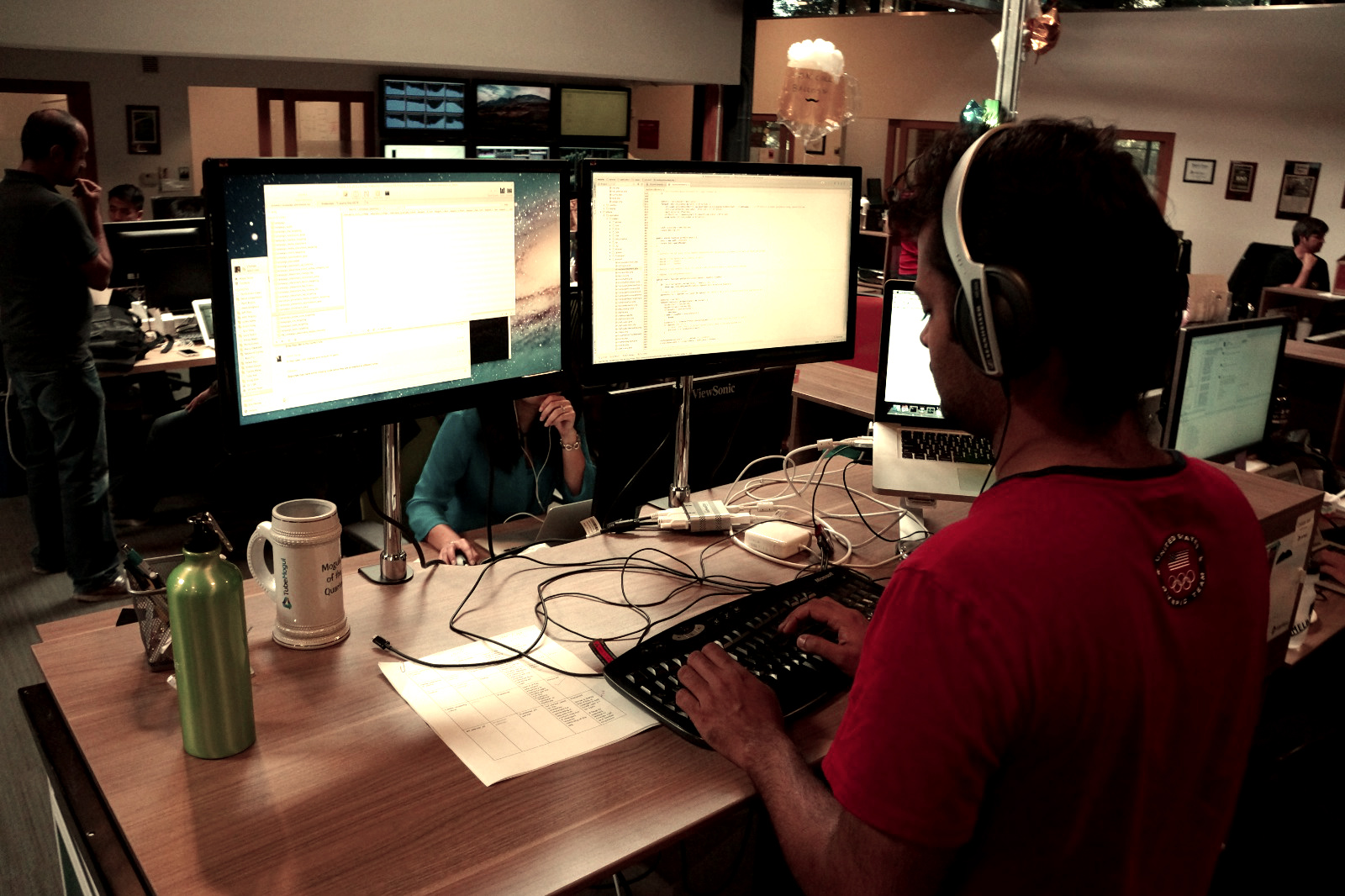 Around mid-August came time for the annual company Hackathon – a 24-hour creative project event that gave people an opportunity to build whatever awesome contraption they wanted and present them to the company. In my experience at UC Berkeley, hackathons usually pertained to the creation of web/mobile applications or solving a given programming problem within a time limit. However, in TubeMogul's version there's no restriction at all to what we build, as long as it may potentially serve any value to the company. Though web/mobile applications were certainly still staple projects of this year's company hackathon, we had the freedom to build whatever we wanted. Amongst last year's projects there was a web application named Kudos! that would allow co-workers to give each other a virtual kudos online (essentially a workplace version of a Facebook likes) and if enough kudos were given to someone then that person would receive perks.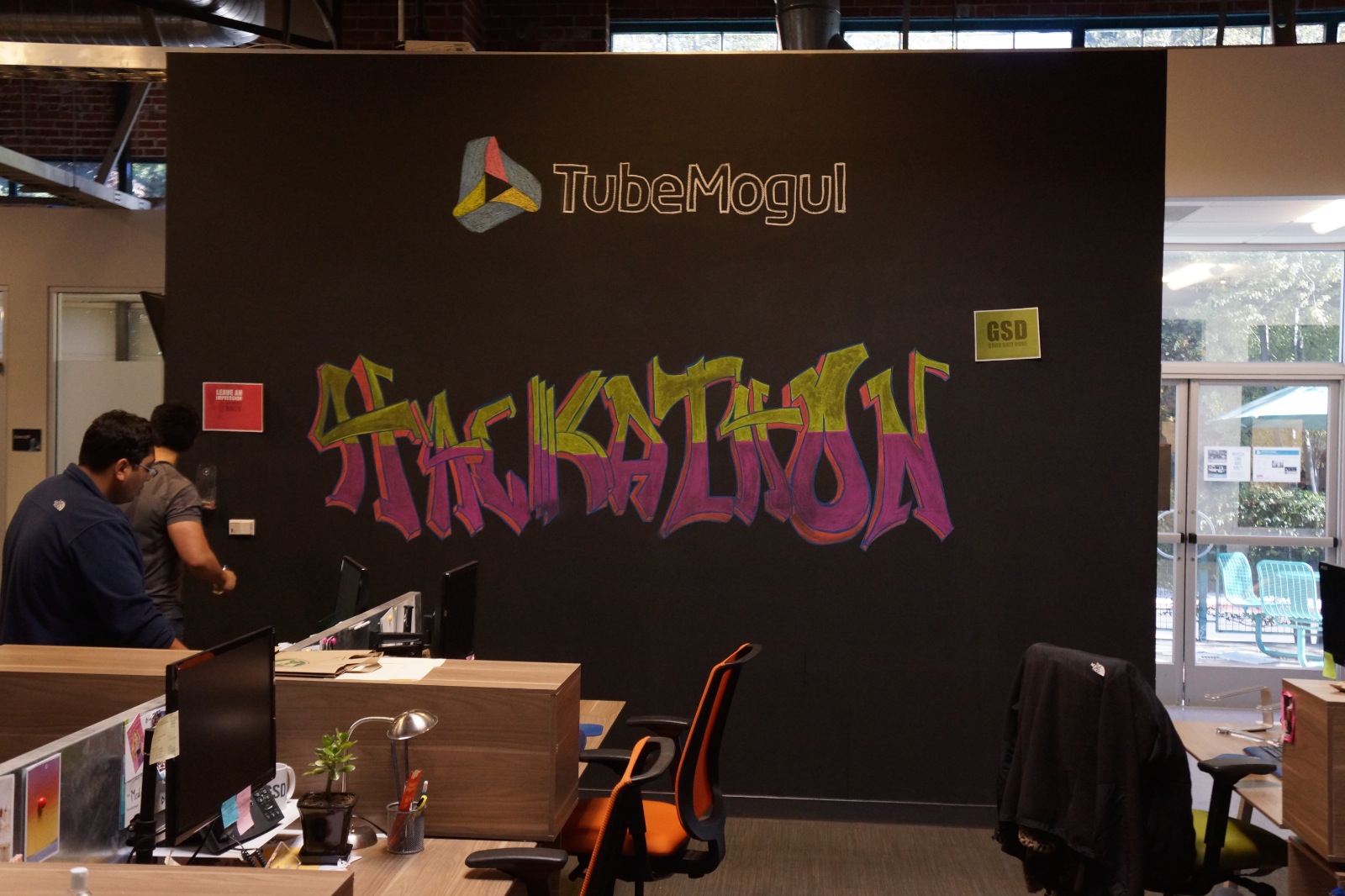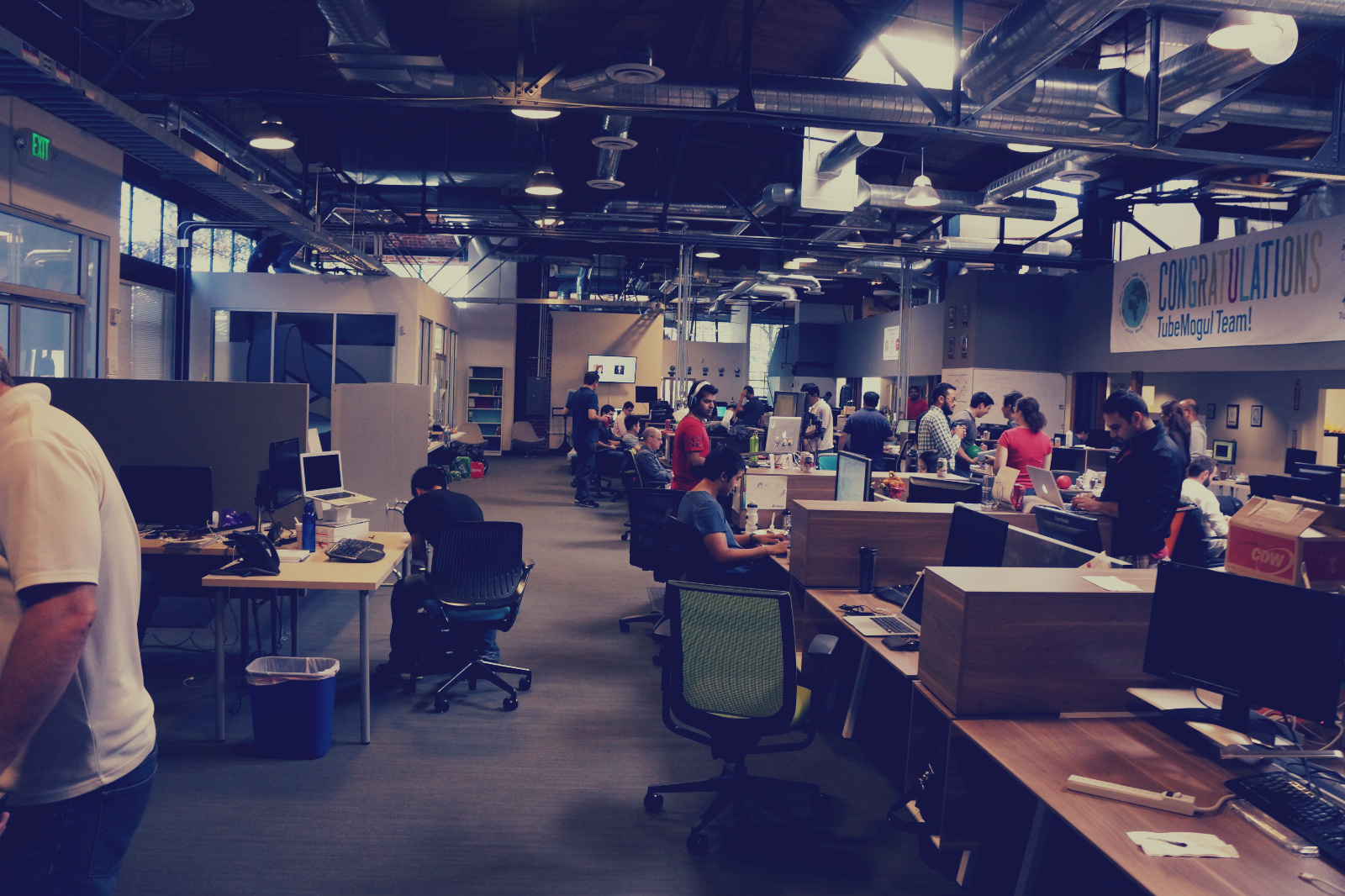 This year we were all determined to set new hackathon records. When I arrived at work the morning of the hackathon, many co-workers had already formed teams from several days ago with solid specs for their project. In some cases there were already prototypes of basic features made. I was pretty much at ground zero at that point and decided to survey around for good ideas.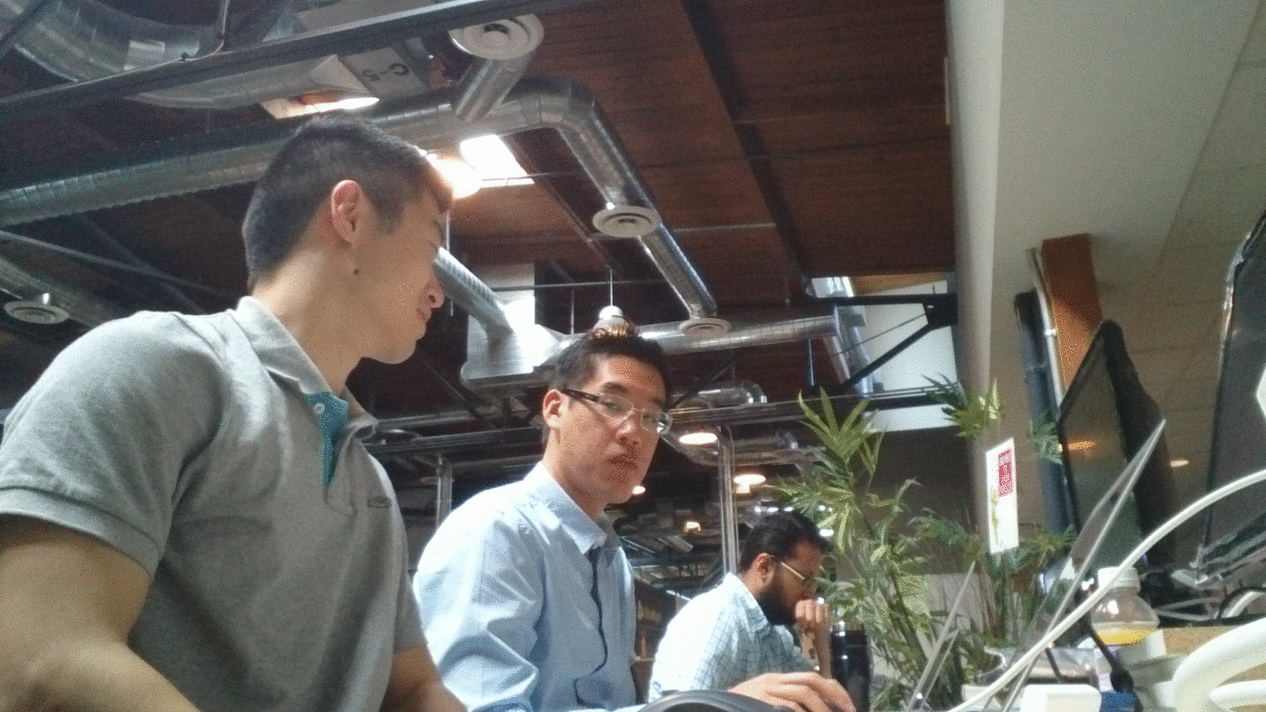 As noon approached, we all split off into brainstorming teams. From within the teams we chose people with the most popular ideas to present to the entire company so that they might be able to inspire others to join them in a mutual pursuit towards hackathon greatness. It was exciting to hear about all the project proposals.
One of my co-workers, Raymond, wanted to build a web application that would function like Xbox Achievements, with the achievements being used as virtual currency towards increasing a employee's "power level". By working hard and finishing tasks, an employee would attain achievements to upgrade their power level. This power level could then be used to attain perks.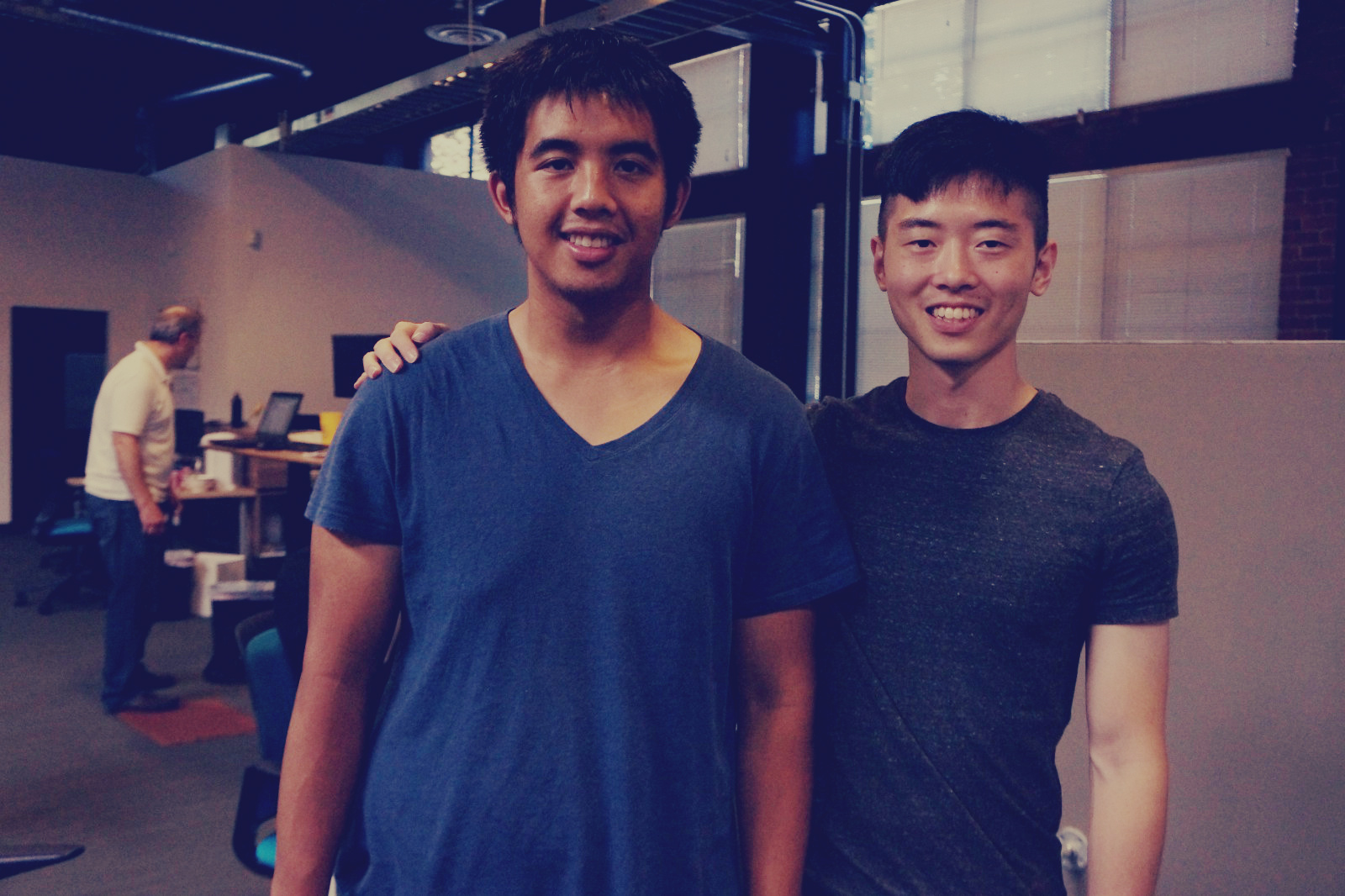 Raymond!
As for me, I initially wanted to build a web application that could show the physical locations of all employees within the office in real-time. This web application would be hooked up to a public TV display and shown like a billboard on the wall. This way, if employees had a hard time finding each other for meetings, they could just reference the application and see where people are on the map. Unfortunately, I wasn't able to find enough team mates for my proposal. Most people had already settled into their favorite groups. I thought I would probably join the iOS app team instead. However, during project proposals a fellow co-worker stepped up to the plate and announced that he wanted to "beautify a room" and revamp an area of the building.
The idea appealed to me instantly and I signed up for it right away. It was a breath of fresh air to undertake a interior design project as I had never done anything other than coding for these kind of events. I sought out Erin (co-worker) and asked for her advice. I told her that I admired her art and wanted to work on the "beautify a room" project with her. I chose the recreation room as the place I wanted to revamp and went through my layout of the new features I wanted to add in there. The original room had gray walls, a couch, a foosball table, and three precariously assembled bar tables.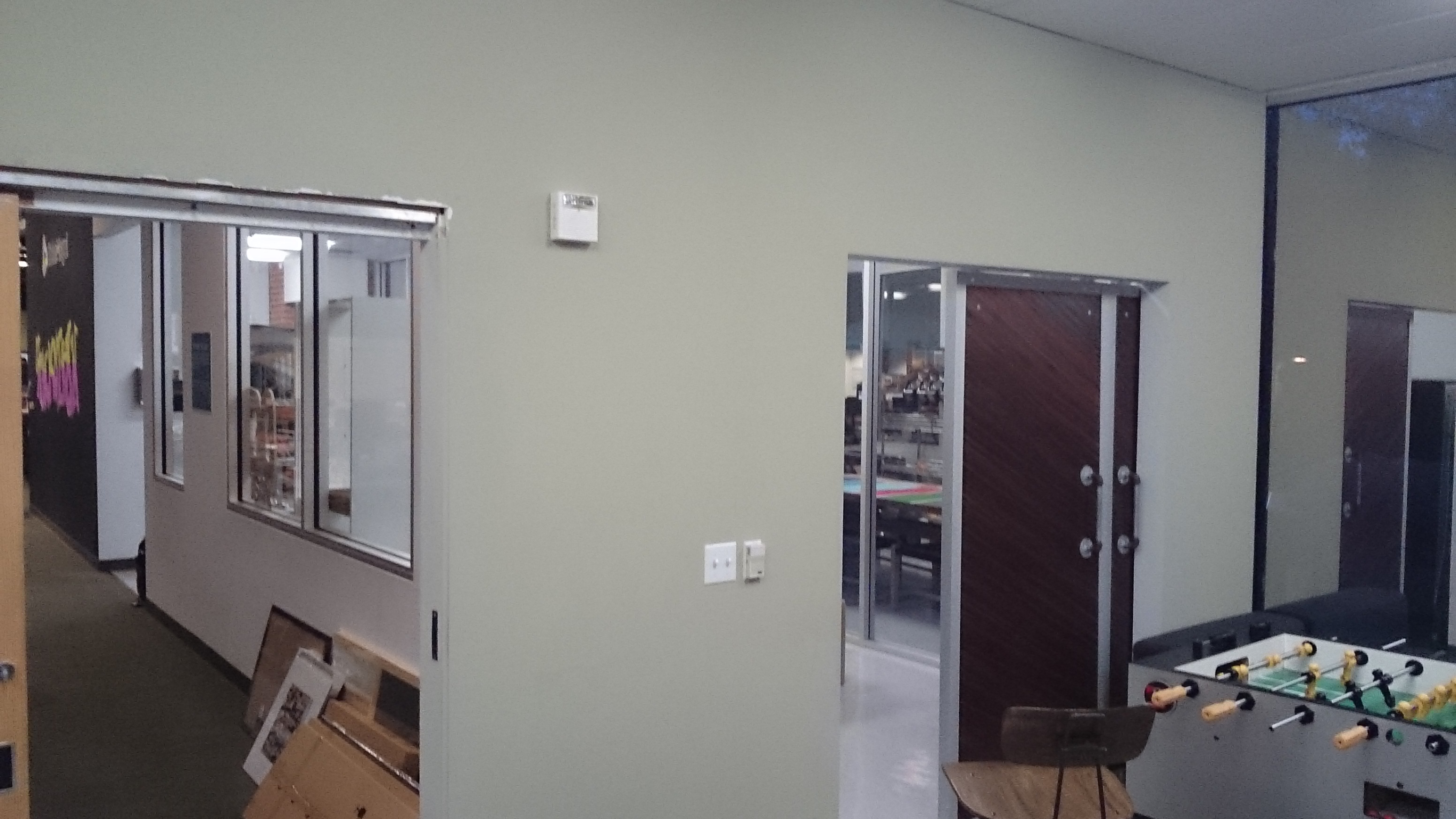 I wanted to optimize the feeling of relaxation, fun, and 'TubeMogul-ness' the recreation room could provide for people. So I suggested adding: a mini lounge area next to the windows, a TubeMogul glass cabinet display 'shrine' in the brick wall corner, a PS3 racing game station, a Gamecube Mario Party game station, curtains at the entrance, lighting on the shelves, a convertible projector screen to watch movies on, a foosball scoreboard, and a bar menu.
I realize now that the original features I wanted were out of proportion for a 24-hour project, but nevertheless Erin allowed me to guide her step-by-step through my process of every single detail in the room, from top to bottom, before finally easing me into a reality check on the actual costs of the project, how much time everything would take, and the likelihood of approval from the hackathon committee. After calculating the costs of all my features I was looking at a bill of over $600 so I began crossing off exorbitant items.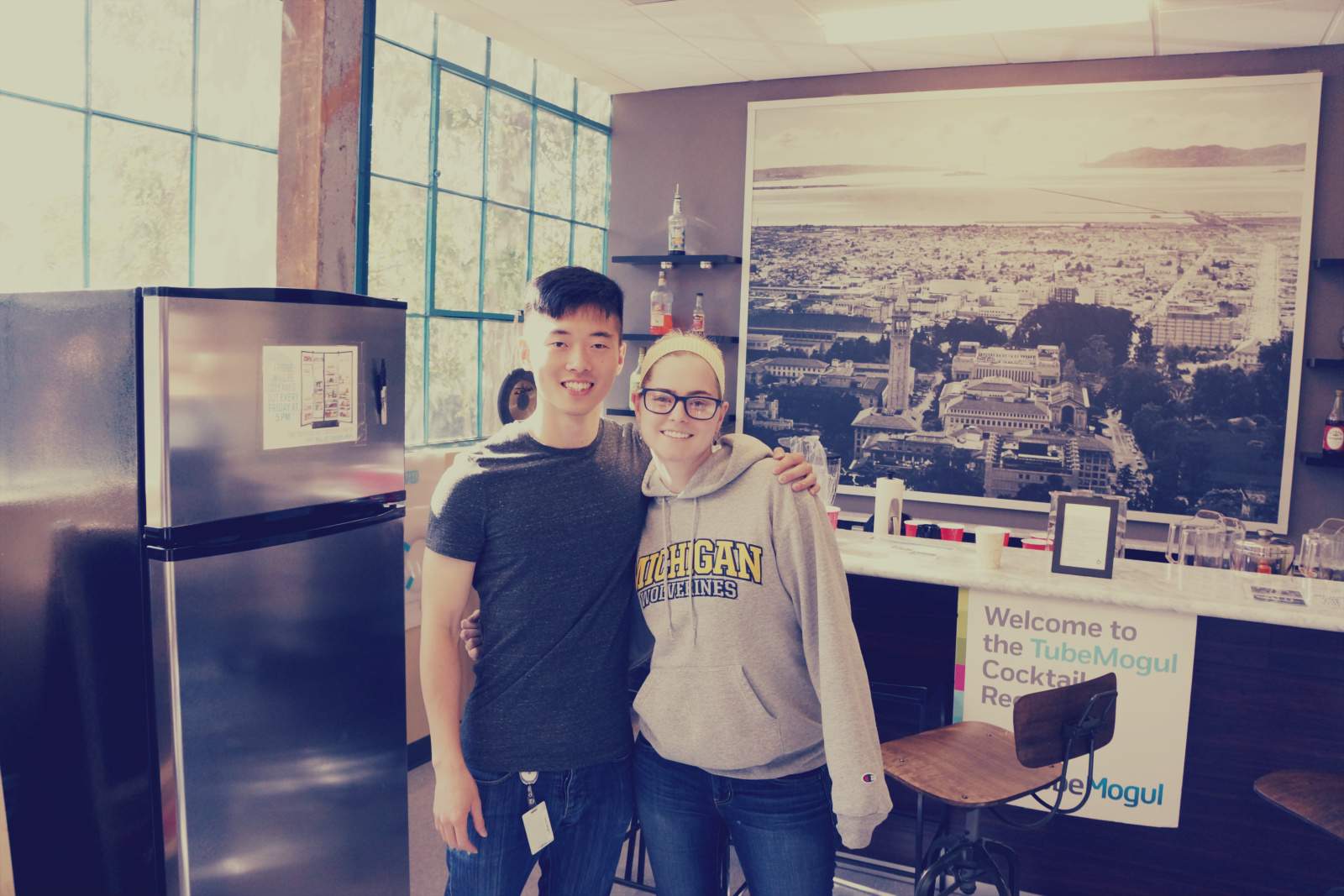 Erin Murphy, my hackathon hero with a heart of gwww.
Erin educated me on the administrative process behind any changes to the interior design of the company building, how every detail – from the color of paint used to the placement of furniture – had to be given the green light by other departments before construction could occur. When I was explaining my project to her, she'd intently listen and try to think of possibilities to make things work before laying down a definite yes or no. Whenever I was deliberating on what to do with my decorations she'd patiently wait and say enthusiastically with a smile, "show me your vision!". I took all these things to heart and was grateful to find someone that would believe in me.
We eventually hatched a strategy for me to officially present my plan to the finance department and I got a budget approved (though I ended up overspending anyway). In addition, we combined forces with another team that was planning to install a kegerator into the bar of the recreation room. I would function as the interior designer of the room while the rest of the team focused on upgrading the bar. And thus the team Kegerator + Bar 2.0 was born.
Up next was the trip to IKEA, Home Depot, and Michael's for the necessary materials. I didn't have access to a car and neither did Erin, so I asked around for a ride. Eventually I found a kind hearted co-worker named Andrew who volunteered to make the trip.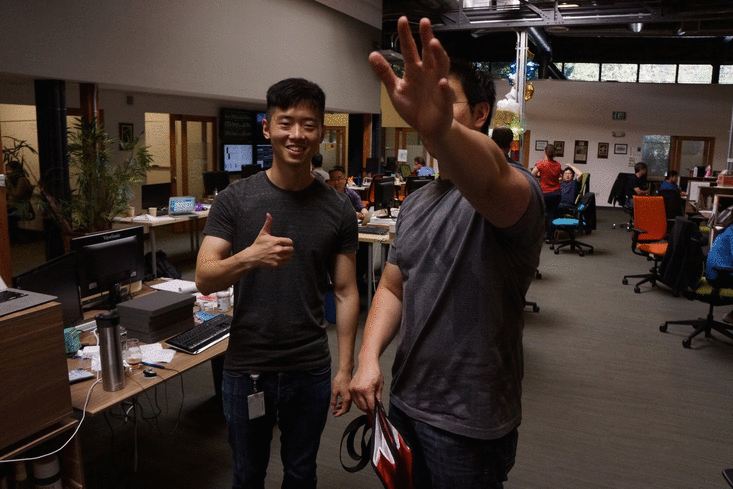 Andrew Chan the lifesaver.
We proceeded to hustle through all the stores and buy everything on the list. At Michael's I whipped out all my 40% coupons through a convenient Android coupon app that was fated to come in handy on that day. Upon completing my hackathon shopping, I returned back to the recreation room and saw Erin already adding finishing touches to a wall. It was apparent that she had immediately set to work on painting the wall as soon as she could.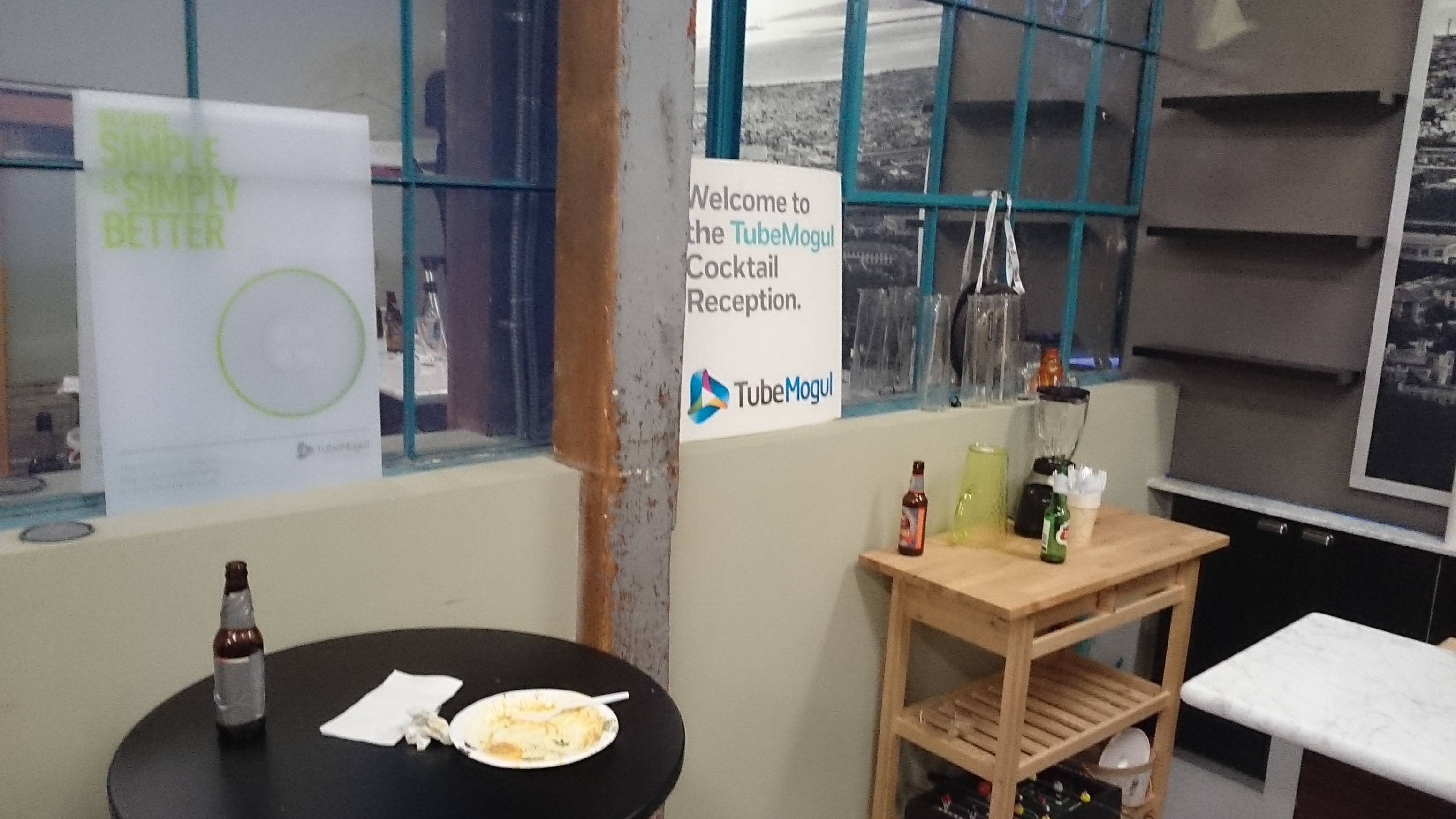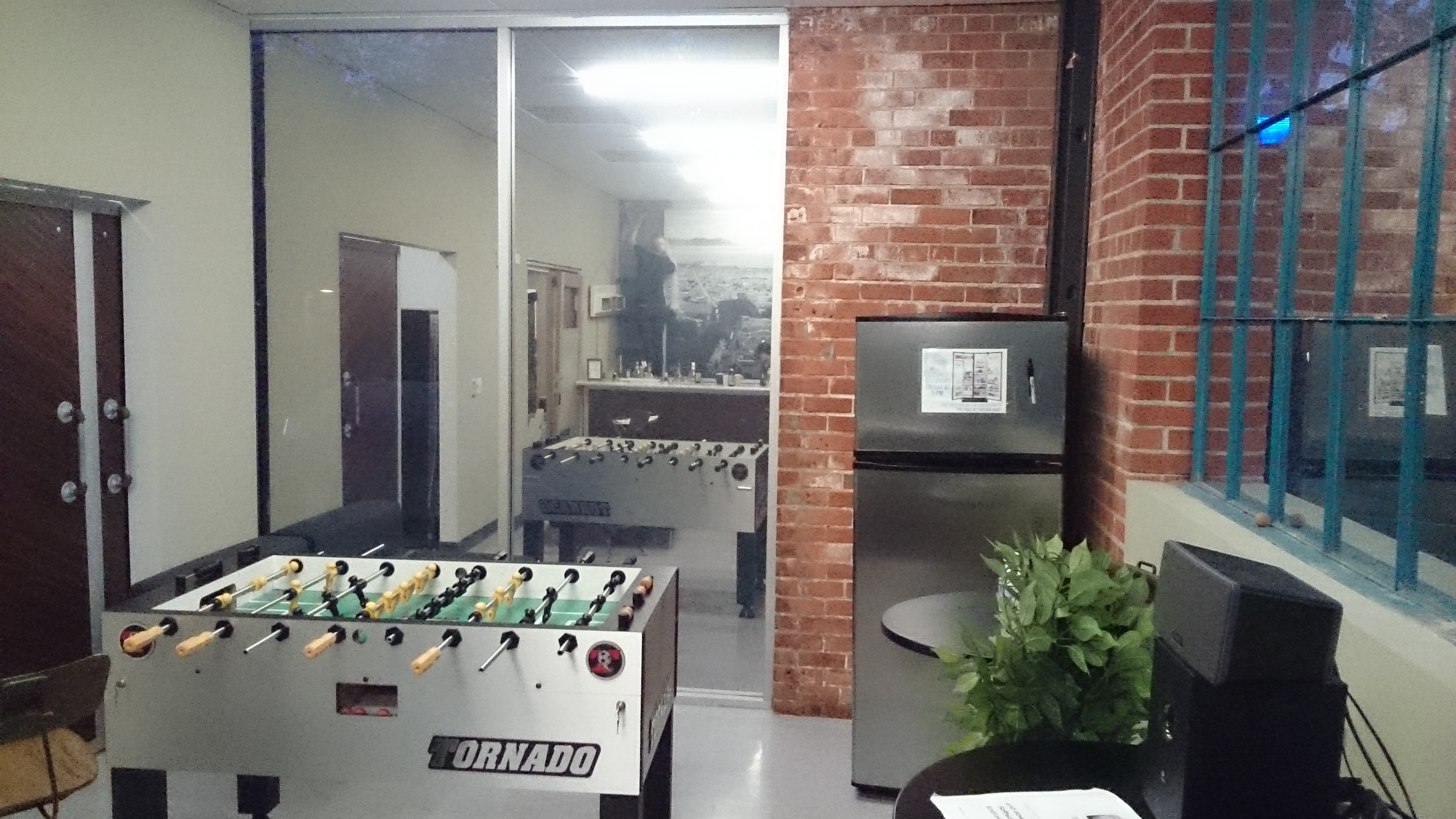 I unpacked everything from Andrew's car and poured myself into painting and assembling. At some point, the executive staff visited the room and even helped paint. Erin and I worked in unison for the next several hours. The recreation room was glorious work and I savored every minute of it.
By the time I had to start heading back, the room was almost finished and only had the assembly of a glass cabinet left to go. However there was one major setback: the glass cabinet pieces from one box were shattered. This meant that between 3:00 AM and noon there was only a two-hour time frame starting from 10:00 AM during which IKEA was open so that I could exchange the broken cabinet for a new one. I wondered how I could still make it all work out somehow. I asked a good friend of mine, Justin Sung, whether or not he'd be able to take me to IKEA in the morning and he was cool with it – super grateful for that!
Deus ex machina AKA Justin Sung.
The next morning I made the trip to IKEA with him. When I got back to the recreation room to assemble the cabinet I only had 10 minutes left. I assembled the cabinet in 5, cleaned up the room in 3, and used the remaining 2 to film the completed room. I made it just in time for the final presentations.
Our Kegerator + Bar 2.0 team finished in 2nd place.